India's New Foreign Secretary : Vinay Mohan Kwatra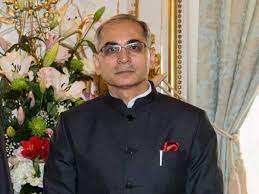 The Indian government has named Vinay Mohan Kwatra who is the country's ambassador to Nepal, as India's next Foreign Secretary. He will be taking charge after incumbent Harsh Vardhan Shringla retires on 30th April.
Vinay Mohan Kwatra is an Indian Foreign Service (IFS) officer and has 32 years of experience working in a range of assignments.
From 2015 to 2017, he has worked in the Prime Minister's office and then went to France as the ambassador of India.
Working in the permanent mission of India
In 1988, after joining the IFS he served as the Permanent Mission of India's third secretary and later he became the second secretary which he served till 1993.
He used to handle work related to the Human Rights Commission, and UN specialized agencies.
He also obtained a diploma in International Relations from the Graduate School of International Studies located in Geneva.