Operation Sankalp: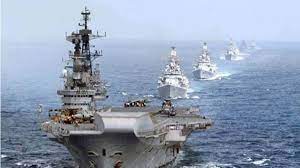 Indian Navy's stealth Frigate, INS Talwar is presently deployed for Op-Sankalp commemorating the 3rd continuous year of Indian Navy's presence in the Gulf.
The Indian Navy has launched 'Operation Sankalp' in the Persian Gulf and the Gulf of Oman as a measure to assure the safety and security of the Indian vessels.
After the attacks on merchant ships in the Gulf of Oman in June 2019, Indian Navy had commenced Maritime Security Operations, code named Op-Sankalp, in the Gulf Region to ensure safe passage of Indian Flag Vessels transiting through the Strait of Hormuz.
Twenty-three warships have been deployed till date for this operation and on an average 16 Indian-flagged merchant vessels are being provided safe passage each day in the Gulf region
Indian Navy's stealth Frigate, INS Talwar is presently deployed in the Gulf region.
India is dependent for about 85% of its demand for oil on imports. In 2019-2020, around 62% of India's oil imports valued at approximately 66 billion USD came from the Gulf region.
Due to the prevailing security situation in the Persian Gulf, it is required to provide security to Indian-flagged merchant vessels transiting through the region.
INS Talwar:
INS Talwar (F40) is the lead ship of the Talwar-class frigates of the Indian Navy.
Its name means "Sword" in Hindi.
Built in Russia, commissioned into the Indian Navy in June 2003.