Indira Point: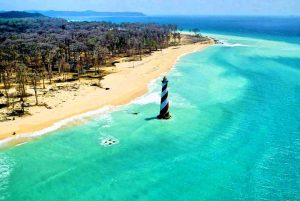 The Swarnim Vijay Varsh Victory Flame was taken to Indira Point, the southernmost tip of the country on August 22, 2021, as part of its voyage to the Nicobar Group of Islands. 2021 is being celebrated as Swarnim Vijay Varsh to mark the 50th year of India's historic victory in the 1971 war.
Swarnim Vijay Varsh is being celebrated across the nation on the occasion of 50th anniversary of Indo-Pak war in 1971. In the series of events Victory Flame of Swarnim Vijay Varsh is being taken across the length and breadth of the country. The flame was lit up by PM Narendra Modi on 16th Dec. last year at National War Memorial in Delhi.
Indira Point, southernmost point of India's territory, is a village in the Nicobar district at Great Nicobar Island of Andaman and Nicobar Islands in India.
It is located in the Great Nicobar tehsil.
The point was formerly known as Pygmalion Point and Parsons Point.
This village was named Indira Point after former Prime Minister Indira Gandhi visited the local light house on 19 February 1984.
The official renaming ceremony happened on 10 October 1985.
Galathea National Park and Lighthouse are the major attractions here.