Indo-Pacific Economic Framework: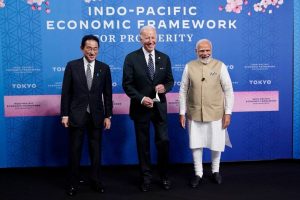 Indo-Pacific Economic framework (IPEF) ministerial summit concludes.
IPEF is the US-led economic grouping of 14 countries in the Indo-Pacific region, intended to counter Chinese aggressive and non-transparent trade and economic policies.
Members: Four QUAD countries, South Korea, New Zealand, Fiji and seven out of the ASEAN members
The IPEF framework has four pillars: Supply-chain resilience, Clean energy, decarbonisation & infrastructure, Taxation & anti-corruption and Fair & resilient trade (strong labour and environment standards etc.)
It aims to define the rules of trade among countries which belief in fair play, transparency, and rules-based trading in the future
India has joined three out of four pillars related to supply chains, tax and anti-corruption and clean energy, but didn't join the "Fair and resilient trade" pillar as it was apprehensive of commitments required on the environment, labour, digital trade and public procurement.