Inflation : New Data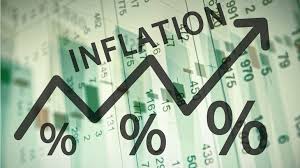 The Retail inflation eased to 4.87% in October 2023 compared to 5.02 % in September 2023.
Retail inflation, based on the Consumer Price Index (CPI), eased to 4.87 per cent in October compared to 5.02 per cent in September this year.
Inflation refers to a sustained increase in the general price level of goods and services in an economy over a period of time.
It is the rise in the prices of most goods and services of daily or common use, such as food, clothing, housing, recreation, transport, consumer staples, etc.
Inflation measures the average price change in a basket of commodities and services over time.
The opposite and rare fall in the price index of this basket of items is called 'deflation'.
Inflation is indicative of the decrease in the purchasing power of a unit of a country's currency.
In India, the Ministry of Statistics and Programme Implementation measures inflation.
There are two main sets of inflation indices for measuring price level changes in India

the Wholesale Price Index (WPI) and the Consumer Price Index (CPI).

GDP deflator is also used to measure inflation.