INS Trikand: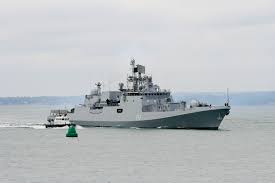 Indian Naval Ship INS Trikand received a warm welcome upon its arrival at Bandar Abbas, the port city of Iran recently.
INS Trikand is a Talwar-class guided-missile frigate of the Indian Navy.
It is the third and final ship of the second batch of Talwar-class frigates ordered by the Indian Navy.
It was built by the Yantar shipyard in Kaliningrad, Russia
INS Trikand was commissioned into the Indian Navy on June 29, 2013.
The ship is named after the Trikand Fort, which is located near Porbandar, Gujarat.
It is part of the Indian Navy's Western Fleet and operates under the Western Naval Command headquartered in Mumbai.
The ship is equipped with advanced sensors and weapon systems.
It features various anti-ship and anti-aircraft missile systems, torpedoes, and a 100mm main gun.
It incorporates stealth technology, including reduced radar cross-section, to enhance its survivability in hostile environments.
It is equipped with anti-submarine warfare (ASW) capabilities, including ASW helicopters and torpedo launchers, which make it effective in countering underwater threats.
The ship is designed to undertake a wide spectrum of naval operations.