Bhoodan-Gramdan Movement: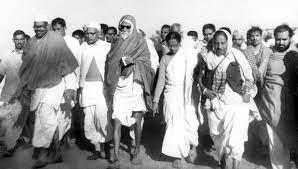 A village in Maharashtra moved to the Bombay High Court, demanding the implementation of the Gramdan Act.
Bhoodan Movement was a socio-political movement started by Vinoba Bhave in 1951 in India.
Vinoba Bhave was a disciple of Mahatma Gandhi who chose him as the first individual Satyagrahi and had actively participated in India's Freedom Struggle.
After independence, he realized that the issue of landlessness was a major problem faced by rural India and in 1951, he started the Bhoodan Movement or the land gift movement.
It aimed to persuade wealthy landowners to donate a portion of their land to landless peasants.
The movement gained momentum when Bhave walked from village to village, requesting landowners to donate their land.
The next phase of the Bhoodan movement was the Gramdan Movement or the village gift movement.
It aimed to create self-sufficient villages by bringing about collective ownership of land.
The Gramdan movement urged villagers to donate their land to a village council, which would then manage and distribute the land to the villagers.
This movement gained support from many political leaders and was seen as a solution to the problem of unequal distribution of land in rural India.