Saraswati Samman Award 2022: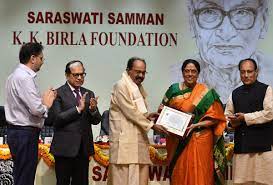 Tamil writer Sivasankari was presented with the 'Saraswati Samman' 2022 for her book of memoirs Surya Vamsam.
Saraswati Samman Award is given annually for outstanding literary works in 22 Indian languages in the last 10 years.
It is among the highest recognitions in the field of Indian literature.
The selection follows a rigorous three-tier process leading up to a final decision by Chayan Parishad
It was instituted by the K. Birla Foundation. (the Vyas Sammanand the Bihari Puraskar are other literary awards instituted by the foundation.)
It carries a citation, a plaque and prize money of 15 lakh rupees.
Sivasankari's literary career spans over five decades.
She is the author of 36 novels, 48 novellas, 150 short stories, 15 travelogues, seven collections of essays, and three biographies.