India's First 5G Testbed: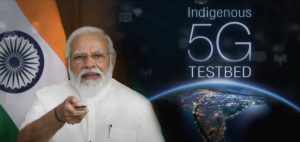 Prime Minister Narendra Modi recently opened India's first 5G testbed, which will allow start-ups and industrial companies to test their products locally, eliminating reliance on international facilities.
He added during the occasion that India's own 5G standard, 5Gi, was a source of great pride for the country and that it will play a significant role in delivering 5G technology to the country's villages.
The 5G Radio Interface Technology, called 5Gi is a locally designed telecommunication network that has been designed by IIT Hyderabad, IIT Madras and the Centre of Excellence in Wireless Technology.
The technology will be an alternative to the global 5G standards.
5Gi offers more range at a lower frequency, which is the opposite of 5G. The latter works between the 700 MHz to 52,000 MHz bands and sacrifices on range.
Benefits of 5Gi:
Using the 5Gi standard will allow telcos in the country to widen the 5G connectivity to villages.
5Gi can make sure there is no lag between the advancement of 5Gi in cities like Delhi, Mumbai, Chennai, and rural parts of the country.