International Monetary And Financial Committee: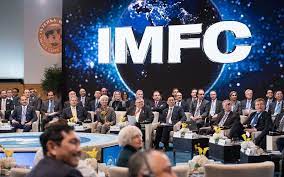 Union Minister for Finance & Corporate Affairs Nirmala Sitharaman attended the Plenary Meeting of the International Monetary and Financial Committee of the Board of Governors of the International Monetary Fund (IMF) at the Annual Meetings 2021 held in Washington D.C. on 14th October 2021.
The meeting was attended by Governors/Alternate Governors representing 190-member countries of the IMF.
The discussions at the meeting centered on "vaccinate, calibrate and accelerate" which is the theme of the Managing Director's Global Policy Agenda.
The members of the IMFC elaborated the actions and measures taken by member countries to combat COVID-19 and facilitate economic recovery.
The IMFC meets twice a year, once during the Fund-Bank Spring Meetings in April, and again during the Annual Meetings in October.
The Committee discusses matters of common concern affecting the global economy and advises the IMF on the direction of its work.