Italian Marines Case::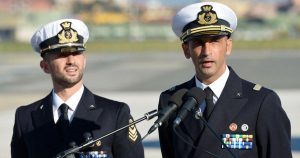 The government has asked the Supreme Court to schedule an urgent hearing of its application to close the criminal trials pending in India against two Italian marines accused of killing two fishermen off the coast of Kerala in 2012.
Girone and Latorre, who were detained on the Italian ship Enrica Lexie, allegedly shot the fishermen thinking they were 'pirates'.
In a virtual hearing in August last year, the court had made it clear that it would close the criminal trial of the Marines in India only after the victims' families were heard and paid a 'hefty' compensation. The court had asked the government to negotiate an 'adequate' compensation for the slain fishermen's families with Italy.
Eight months ago, the Centre had informed the apex court about its decision to "accept and abide" by an international tribunal's award that the Marines should be tried in their native Italy.
The government had explained that India was bound by the award of the arbitral tribunal formed under the United Nations Convention on the Law of the Sea (UNCLOS).
The award was "final and without appeal" as India was a party to the UN Convention
In a close 3:2 vote, the tribunal ruled that the Italian marines enjoyed diplomatic immunity as Italian state officials under the United Nations Convention on the Law of Sea.
Taking note of the "commitment expressed by Italy" to resume its criminal investigation into the incident, the tribunal said India must cease to exercise its jurisdiction.