Jagdeep Dhankhar : India's 14th Vice-President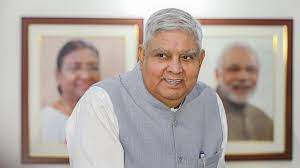 National Democratic Alliance (NDA) candidate Jagdeep Dhankhar has been elected as India's 14th Vice-President of India.
Jagdeep Dhankhar (born 18 May 1951) is an Indian politician, who is the 14th vice president-elect of India.
He served as the Governor of West Bengal.
He is a member of the Bharatiya Janata Party.
He served as the Minister of State for Parliamentary Affairs in the Chandra Shekhar ministry.
He was the 2022 Vice Presidential election of India candidate by the National Democratic Alliance and subsequently won the Vice Presidential election.
Mr Dhankhar will take oath of office on 11th August, a day after the term of the incumbent Vice-President M Venkaiah Naidu ends. Mr Dhankhar will also be appointed the ex-officio Chairman of Rajya Sabha.