Jammu And Kashmir Delimitation Commission: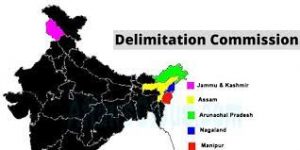 The Jammu and Kashmir Delimitation Commission has proposed to increase six seats for the Jammu division and one for the Kashmir division, besides reserving 16 seats for the Scheduled Castes (SC) and the Scheduled Tribes in the Union Territory.
The Kashmir division currently has 46 seats and Jammu 37.
The commission is headed by Justice Ranjana Prakash Desai (retd.).
The commission has not specified the districts where the SC and ST seats would be reserved.
It said that the 2011 census was the basis for carving out the new seats. According to the census, the population of the Kashmir division was 68.8 lakh and Jammu 53.5 lakh.
The draft proposal added that nine seats would be reserved for the Scheduled Tribes and seven for the Scheduled Castes. Jammu and Kashmir will now have a 90-member Legislative Assembly, up from the 87 prior to the Centre's decision to end the special constitutional position of the erstwhile State.
This has triggered sharp reactions from the regional parties.
There is already a Supreme Court ruling granting a status quo regarding delimitation, if the commission prepares the draft based on 2011 census. It will be unconstitutional.