Arignar Anna Zoological Park : Chennai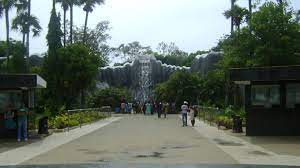 The Arignar Anna Zoological Park, Chennai has introduced a novel method to check the littering of plastic bottles inside its premises.
Coinciding with the World Environment Day yesterday, the authorities of the state's biggest zoo have begun collecting a deposit of ten rupees each for every bottle of water from the visitors.
The money is refunded if they return the empty bottle. The officials say the initiative has begun yielding good results.
Meanwhile, the state environment minister Siva. V. Meyyanathan and health minister Ma. Subramanian in Chennai distributed the traditional cloth bags called "Manchappai," which means 'yellow bags,' to promote use of environmentally friendly carry bags instead of the harmful plastic bags.