Jammu And Kashmir Delimitation Commission: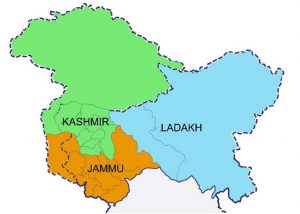 The Jammu and Kashmir Delimitation Commission has said that it will base its final report on the 2011 Census and will also take into account the topography, difficult terrain, means of communication and convenience available for the ongoing delimitation exercise.
Delimitation exercise in J&K:
The first delimitation exercise, carving out 25 assembly constituencies in the then state, was carried out by a Delimitation Committee in 1951.
The first full-fledged Delimitation Commission was formed in 1981 and it submitted its recommendations in 1995 on the basis of 1981 Census. Since then, there has been no delimitation.
In 2020, the Delimitation Commission was constituted to carry out the exercise on the basis of 2011 Census, with a mandate to add seven more seats to the Union Territory' and grant reservations to SC and ST communities.
Now, the total number of seats in Jammu and Kashmir will be raised to 90 from the previous 83. This is apart from 24 seats which have been reserved for areas of PoK and have to be kept vacant in the Assembly.
The Delimitation Commission for Jammu and Kashmir was constituted by the Centre on March 6 last year to redraw Lok Sabha and assembly constituencies of the union territory in accordance with the provisions of the Jammu and Kashmir Reorganisation Act, 2019, which bifurcated the state into union territories of J&K and Ladakh.
What is Delimitation?
Delimitation literally means the process of fixing limits or boundaries of territorial constituencies in a state that has a legislative body.
Who carries out the exercise?
Delimitation is undertaken by a highly powerful commission. They are formally known as Delimitation Commission or Boundary Commission.
These bodies are so powerful that its orders have the force of law and they cannot be challenged before any court.
Composition of the Commission:
According to the Delimitation Commission Act, 2002, the Delimitation Commission will have three members:

a serving or retired judge of the Supreme Court as the chairperson,
Chief Election Commissioner or Election Commissioner nominated by the CEC
State Election Commissioner as ex-officio members.