JUPITER-3 : Private Satellite To Space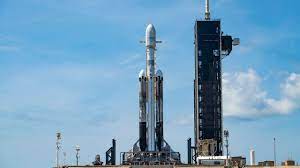 SpaceX, led by visionary entrepreneur Elon Musk, is set to make history once again by launching the world's largest private satellite to space on July 27.
The satellite, named JUPITER-3 and developed by Maxar Technologies, is a breakthrough in the field of communications satellites, boasting impressive size and cutting-edge technology.
SpaceX's Falcon Heavy rocket, known for its triple-booster design, will carry the JUPITER-3 satellite into space.
This upcoming launch will signify the Falcon Heavy's seventh mission, gaining widespread attention since its inaugural flight in 2018.
The rocket has proven to be a reliable workhorse in the aerospace industry.
JUPITER-3 is not just any ordinary satellite; it is the largest commercial communications satellite ever built.
Developed by Maxar Technologies in Palo Alto, California, this satellite represents a major leap in satellite technology.
One of the primary aims of JUPITER-3 is to double the capacity of Maxar Technologies' satellite fleet with an additional 500 Gbps.
This substantial increase in capacity will enable the company to better serve customers, especially in regions where cable and fiber connectivity are unavailable or unreliable, such as in remote areas.
The JUPITER-3 satellite will cater to various communication needs.
Its applications include supporting in-flight Wi-Fi, maritime connections, enterprise networks, backhaul for Mobile Network Operators (MNOs), and Community Wi-Fi solutions across North and South America.