Sharad A. Bobde Recommendation: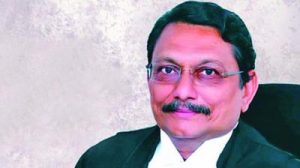 Chief Justice of India Sharad A. Bobde has recommended Justice N.V. Ramana, the senior-most judge of the Supreme Court, as the next top judge.
Justice Ramana is now set to take over as the 48th Chief Justice of India from April 24.
Appointment of CJI:
The Chief Justice of India is traditionally appointed by the outgoing Chief Justice of India on the day of his (or her) retirement.
By convention, the outgoing Chief Justice of India selects the most senior then-sitting Supreme Court judge.
Seniority at the apex court is determined not by age, but by:

The date a judge was appointed to the Supreme Court.
If two judges are elevated to the Supreme Court on the same day:
The one who was sworn in first as a judge would trump another.
If both were sworn in as judges on the same day, the one with more years of high court service would 'win' in the seniority stakes.