World Sloth Bear Day: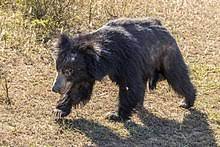 The first World Sloth Bear Day was observed on October 12.
It aims to spread awareness about protection and conservation of sloth bears.
A proposal for observing the World Sloth Bear Day was mooted by Wildlife SOS India, an organisation involved in sloth bear conservation and protection for over two decades and the IUCN-Species Survival Commission sloth bear expert team accepted the proposal and declared the day to be celebrated worldwide.
Sloth bears ( Melursus ursinus):
Sloth bears are endemic to the Indian sub-continent with small populations in Nepal and Srilanka and 90% of the species population is found in India.
They are classified as 'Vulnerable' on the IUCN Red List.
They are identified by their very distinct long, shaggy dark brown or black fur, distinct white V-shaped chest patch and four-inch long ivory-coloured curved claws used for digging out termites and ants from rock-hard mounds.
Listed under Schedule I of the (Wildlife Protection) Act of India, 1972 the species has the same level of protection as tigers, rhinos and elephants.
They are found in all parts of the country except Jammu and Kashmir and north-eastern States.