Justice N V Ramana: 48th Chief Justice Of India: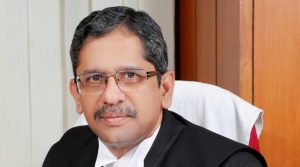 In exercise of the powers conferred by clause (2) of Article 124 of the Constitution, President Ram Nath Kovind has appointed Justice N V Ramana as the 48th Chief Justice of India with effect from April 24, 2021, accepting the recommendation made by the outgoing CJI SA Bobde.
He was Additional Advocate General for Andhra Pradesh before being called to the State High Court Bench in 2001.
Justice Ramana was the Chief Justice of the Delhi High Court, before his elevation to the Supreme Court on February 17th, 2014.
As Executive Chairman of the National Legal Services Authority, Justice Ramana was responsible for making India's legal aid program the largest in the world with aid provided on the basis of a 'means test' rather than on basis of fixed categories.
As CJI, Justice Ramana will have a tenure of 16 months till August 26th next year.
Justice Ramana has said one of his primary objectives would be to improve the judicial infrastructure through a special purpose vehicle called the 'National Judicial Infrastructure Corporation' to act as a nodal agency.