Karnataka Right To Freedom Of Religion Bill, 2021: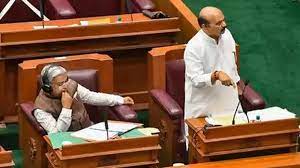 The Karnataka legislative Assembly passed The Karnataka Right to Freedom of Religion Bill, 2021, commonly referred to as the anti-conversion Bill, amid Opposition protests. The Bill will now go to the Karnataka Legislative Council.
It prohibits conversion from one religion to another by misrepresentation, force, fraud, allurement or marriage.
It, however, provides an exemption in the case of a person who "reconverts to his immediate previous religion" as "the same shall not be deemed to be a conversion under this Act".
Complaints regarding conversions can be filed by family members or any other person who is related to the individual who is getting converted.
A jail term of three to five years and a fine of Rs 25,000 has been proposed for those violating the law in the case of people from general categories, and a jail term of three to 10 years and a fine of Rs 50,000 has been mooted for those converting minors, women or persons from SC/ST communities.
The Bill also envisages payment of a compensation of Rs 5 lakh (on court orders) to victims of conversion by the persons attempting the conversion, and double punishment for repeat offences.