Essential Defence Services Bill 2021: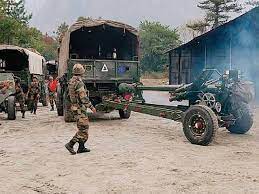 The Bill was recently passed by the Lok Sabha.
The Bill aims to prevent the staff of the government-owned ordnance factories from going on a strike.
Highlights of the Bill:
It is meant to "provide for the maintenance of essential defence services.
The Bill defines Essential Defence Services: It includes any service in any establishment or undertaking dealing with production of goods or equipment required for defence related purposes or any establishment of the armed forces or connected with them or defence.
The Bill also empowers the government to declare services mentioned in it as essential defence services.
It prohibits strike and lockouts in "any industrial establishment or unit engaged in essential defence services".
The Bill amends the Industrial Disputes Act, 1947 to include essential defence services under public utility services.
Besides, the bill has also defined strikes and punishments for violations.