Violence In South Africa: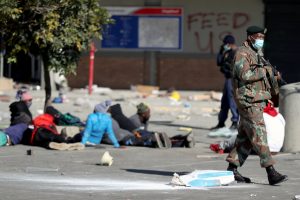 Riots and looting in South Africa have left more than 70 people dead, hurt thousands of businesses and damaged major infrastructure.
It is the worst civil unrest since the end of white minority rule in 1994.
Reason for Recent Violence:
Protests began over calls for release of former president Jacob Zuma, who served the country from 2009-18 and is facing corruption charges.
Former Cabinet ministers, high-ranking government officials and executives of state-owned enterprises have implicated Jacob Zuma in corruption.
Many feel that his successor as president, Cyril Ramaphosa, has failed to provide decisive leadership – either to calm anger over Zuma's imprisonment or to reassure South Africans that they will be safe.
While the violence may have been spurred on by the imprisonment of Jacob Zuma, it's being fanned by underlying problems in the country amid a raging pandemic and failing economy.
In 2020, the country had witnessed its sharpest decline in annual Gross Domestic Product since 1946.
Unemployment stood at a record high of 32.6% in the first three months of 2021.
The government has condemned the violence and has stated that there is no justification for the violence. A lot of criminals or opportunistic individuals are trying to enrich themselves during this period.
It has deployed its army to support the South African police, however, the rioting and looting haven't stopped.