President Kovind Removes Kiran Bedi As Puducherry Lieutenant Governor: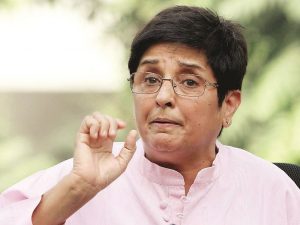 President Kovind removes Kiran Bedi as Puducherry's Lieutenant Governor.
Telangana Governor Tamilisai Soundararajan has been given the additional charge of Puducherry.
Puducherry is a union territory that is governed by Article 239A of the Constitution.
The Government of Union Territories Act, 1963 provides for a Legislative Assembly of Puducherry, with a Council of Ministers to govern the UT.
The same Act says that the UT will be administered by the President of India through a Lieutenant Governor.
Section 44 of the Act allows the LG to "act in his discretion" in the matter of lawmaking, even though the Council of Ministers has the task of aiding and advising him. In case of a difference of opinion between the LG and his Ministers on any matter, the Administrator is bound to refer it to the President for a decision and act according to the decision given by the President.
However, the Administrator can also claim that the matter is urgent, and take immediate action as he deems necessary.
Under Section 22 of the Act, prior sanction of the Administrator is required for certain legislative proposals. These include Bills or amendments that the Council of Ministers intends to move in the Legislative Assembly, and which deal with the "constitution and organization of the court of the Judicial Commissioner", and "jurisdiction and powers of the court of the Judicial Commissioner with respect to any of the matters in the State List or the Concurrent List".