Pardoning Power Of Governor: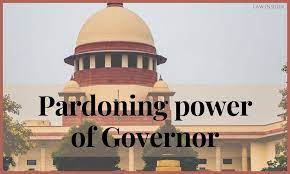 A claim by the Centre that the President, and not the Tamil Nadu Governor, has "exclusive power" to decide on the plea for pardon by the Rajiv Gandhi assassination convict A.G. Perarivalan drew flak from the Supreme Court before it reserved the case for judgment.
A three-judge Bench said the government's argument, if taken on face value, would leave Article 161 (the constitutional power of Governors of States to grant pardon) a "dead letter".
The court said then by the Centre's logic, every murder case convict would have to move the President for pardon.
Article 161 of Indian constitution: The Governor of a State shall have the power to grant pardons, reprieves, respites or remissions of punishment or to suspend, remit or commute the sentence of any person convicted of any offence against any law relating to a matter to which the executive power of the State extends.