Lal Bahadur Shastri National Award or Excellence: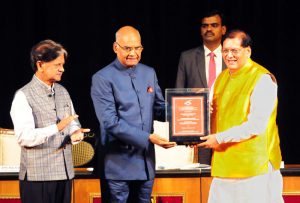 Vice President of India presented Lal Bahadur Shastri National Award for Excellence to Director of the All India Institute of Medical Sciences (AIIMS), Dr. Randeep Guleria.
The Lal Bahadur Shastri National Award for Excellence was instituted by Lal Bahadur Shastri Institute of Management (LBSIM), Delhi, promoted by Lal Bahadur Shastri Educational Society.
The Award honours each year a distinguished Indian residing either in India or abroad for his/her sustained individual contributions and outstanding achievements of high professional order and excellence in the field of management, public administration, public affairs, education, Institution building, art & culture and sports.
The honour carries a cash award of Rs. Five Lakh plus a Citation and a Plaque.
The Award is presented on October 1 each year which the eve of the birth anniversary of Shri Lal Bahadur Shastri is.
Some of the recent recipients of the Award are Mr. Fali S. Nariman, Dr. Bindeshwar Pathak, Dr. Gopalkrishna Gandhi, Dr. Prannoy Roy, Dr. A. Sivathanu Pillai, Dr. R.A. Badwe, Mrs. Tessy Thomas, late Prof. Yash Pal, Ms Aruna Roy, Shri Sunil Bharti Mittal, Dr. E. Sreedharan, Dr. M.S. Swaminathan, Dr. Naresh Trehan, late Dr. C.P. Srivastava, Ms Ela R. Bhatt, Dr. R.A. Mashelkar, Mr. N.R. Narayana Murthy, Mr. Sam Pitroda and late Prof. C.K. Prahalad.