Dr. Syama Prasad Mukerjee: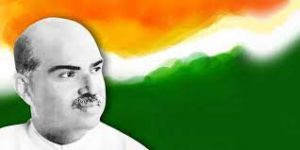 PM Modi has paid tributes to Dr. Syama Prasad Mookerjee on his Punya Tithi.
Syama Prasad Mukherjee (1901 – 1953) was an Indian politician
In 1934, at the age of 33, he became the youngest Vice-Chancellor of the University of Calcutta; he held the office until 1938.
Mukherjee joined the Hindu Mahasabha in Bengal in 1939 and became its acting president that same year.
He was also the president of Akhil Bharatiya Hindu Mahasabha from 1943 to 1946. He died in the custody of Jammu and Kashmir Police in 1953.
In 1946, he was elected as a member of the Constituent Assembly of India in the same year.
He served as the Minister for Industry and Supply in Prime Minister Jawaharlal Nehru's cabinet.
He quit Congress because of differences of opinion with Nehru led government on the issue of Jammu & Kashmir.
He founded the Bharatiya Jana Sangh, the predecessor to the Bharatiya Janata Party, in 1951.