Daily Current Affairs for Government Exams:
Today Current Affairs: 20th October 2020 for UPSC IAS exams, State PSC exams, SSC CGL, State SSC, RRB, Railways, Banking Exam & IBPS, etc
Contents:
Malabar Exercise:
Fertiliser Subsidy:
"Regulatory Sandbox":
Assam-Mizoram border:
Ayushman Sahakar Scheme:
Other important current affairs
1. Malabar Exercise: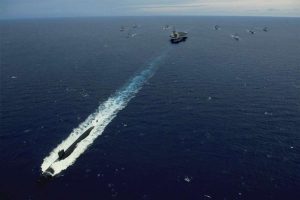 Australia has agreed to join the Malabar Exercise at India's request. The exercise is scheduled to be held in November 2020.
2020 Malabar Exercise:
The 2020 Exercise is expected to be held in the Bay of Bengal and the Arabian Sea. In 2019, the exercise was conducted off the coast of Japan.
Due to the Covid-19 pandemic the exercise had been planned in a 'non-contact – at sea' format.
Its objective is to enhance safety and security in the maritime domain.
Australia's Inclusion:
The issue of Australia's inclusion in Malabar had again come up for discussion at the Quad foreign ministers meet in Tokyo held in October 2020. Thereafter, India invited Australia to join the Exercise.
Quad is the informal strategic dialogue between India, the USA, Japan, and Australia with a shared objective to ensure and support a free, open, and prosperous" Indo-Pacific region.
The move will bolster the ability of India, Australia, Japan, and the United States to work together to uphold peace and stability across the Indo-Pacific region.
It is also expected to further lay the foundations for the eventual formalisation of the Quad grouping.
Despite regular requests from Australia, India resisted issuing the invitation due to its concerns that the move would give the appearance of a 'quadrilateral military alliance' aimed at China.
In 2017, Australia had requested observer status in the Malabar Exercise.
China has repeatedly expressed strong opposition to any expansion of the Malabar Exercise, which it sees as a multilateral naval construct designed to "counter and contain" it.
However, the recent India-China tensions over the situation at the Line of Actual Control (LAC) may have brought more flexibility to India's decision-making process.
Japan and the U.S.A also have been pressing India for Australia's inclusion in Malabar Exercise.
Malabar Exercise
It is an annual trilateral naval exercise between the navies of India, Japan, and the USA which is held alternately in the Indian and Pacific Oceans.
It began as a bilateral naval exercise between India and the USA in 1992 and was expanded into a trilateral format with the inclusion of Japan in 2015.
The Exercise is aimed to support free, open, and inclusive Indo-Pacific and remains committed to a rules-based international order.
It is also aimed at interoperability with an emphasis on humanitarian assistance, surface war maneuvers, anti-submarine warfare, counter-terror operations, gunnery training and aerial surveillance.
2.Fertiliser Subsidy: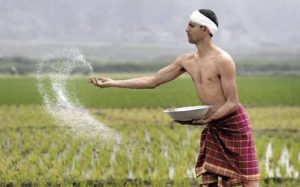 The Centre is working on a plan to restrict the number of fertiliser bags that individual farmers can buy during any cropping season.
Fertiliser Subsidy:
Farmers buy fertilisers at Maximum Retail Prices (MRP) below their normal supply-and-demand-based market rates or what it costs to produce/import them.
For example, the MRP of neem-coated urea is fixed by the government at Rs. 5,922.22 per tonne, whereas its average cost-plus price payable to domestic manufacturers and importers comes to around Rs. 17,000 and Rs. 23,000 per tonne, respectively.
The difference, which varies according to plant-wise production cost and import price, is footed by the Centre as a subsidy, which goes to the companies.
The MRPs of non-urea fertilisers are decontrolled or fixed by the companies.
However, the Centre pays a flat per-tonne subsidy on these nutrients to ensure reasonable prices.
The per-tonne subsidy ranges from Rs. 10,231 to Rs. 24,000 for different types of fertilisers.
Decontrolled fertilisers retail way above urea, as they attract lower subsidy.
In April 2020, the Cabinet Committee on Economic Affairs (CCEA) cut the subsidy for non-urea fertilisers, which was about 3% lower than the previous year.
About Subsidy:
From March 2018, a new direct benefit transfer (DBT) system was introduced, wherein subsidy payment to the companies would happen only after actual sales to farmers by retailers.
Each retailer has a point-of-sale (PoS) machine linked to the Department of Fertilisers' e-Urvarak DBT portal.
Anybody buying subsidised fertilisers is required to furnish their Aadhaar or Kisan Credit Card (KCC) number.
Only upon the sale getting registered on the e-Urvarak platform can a company claim subsidy, with these being processed on a weekly basis and payments remitted electronically to its bank account.
Currently, the Centre follows a "no denial" policy where anybody, non-farmers included, can purchase any quantity of fertilisers through the PoS machines.
It allows for bulk buying by unintended beneficiaries, who are not genuine or deserving farmers.
There is a limit of 100 bags that an individual can purchase at one time but it does not stop anyone from buying any number of times.
3."Regulatory Sandbox":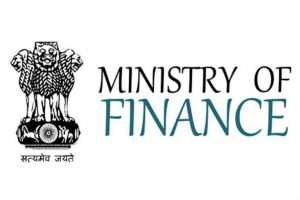 The International Financial Services Centres Authority (IFSCA) has introduced a framework for "Regulatory Sandbox".
Regulatory sandbox is a safe harbour, where businesses can test innovative products under relaxed regulatory conditions.
Typically, participating companies release new products in a controlled environment to a limited number of customers for a limited period of time.
The new framework released by IFSCA:
The Regulatory Sandbox shall operate within the IFSC located at GIFT City.
Entities operating in the capital market, banking, insurance and financial services space shall be granted certain facilities and flexibilities to experiment with innovative FinTech solutions in a live environment with a limited set of real customers for a limited time frame.
These features shall be fortified with necessary safeguards for investor protection and risk mitigation.
About the International Financial Services Centres Authority:
It is a statutory body established in 2020.
It works under the Department of Economic Affairs, Ministry of Finance.
Headquartered in Gandhinagar, Gujarat.
Roles and functions:

Its main function is to develop and regulate the financial products, financial services and financial institutions located/performed in the International Financial Services Centres in India.
The Authority is empowered to exercise the powers of RBI, SEBI, IRDAI and PFRDA in respect of financial services, financial products and financial institutions performed/located in the international financial services centres in the country.

Composition:

Chairperson, one Member each to be nominated by the Reserve Bank of India (RBI), the Securities Exchange Board of India (SEBI), the Insurance Regulatory and Development Authority of India (IRDAI) and the Pension Fund Regulatory and Development Authority (PFRDA), two members to be dominated by the Central Government and two other whole-time or full-time or part-time members.
They will have a three-year term subject to reappointment.

The SEZ Act 2005 allows setting up an IFSC in an SEZ or as an SEZ after approval from the central government.
4.Assam-Mizoram border: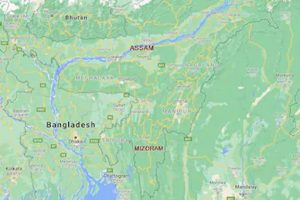 Recently, Assam-Mizoram border witnessed firing over a territory dispute, which spotlights the long-standing inter-state boundary issues in the Northeast, particularly between Assam and the states which were carved out of it.
Mizoram borders Assam's Barak Valley and the boundary between present-day Assam and Mizoram is 165 km long. Both states border Bangladesh.
Residents of Lailapur village in Assam's Cachar district clashed with residents of localities near Vairengte in Mizoram's Kolasib district.
Earlier in October 2020, a similar clash took place on the border of Karimganj (Assam) and Mamit (Mizoram) districts.
Mizoram civil society groups blame "illegal Bangladeshis" (alleged migrants from Bangladesh) on the Assam side.
Background:
The boundary issue between present-day Assam and Mizoram dates back to the colonial era when inner lines were demarcated according to the administrative needs of British Raj.
The issue could not be settled once and for all when the state was created in independent India.
The result is both states continue to have a differing perception of the border.
Mizoram was granted statehood in 1987 by the State of Mizoram Act, 1986.
Assam became a constituent state of India in 1950 and lost much of its territory to new states that emerged from within its borders between the early 1960s and the early 1970s.
The Assam-Mizoram dispute stems from a notification of 1875 that differentiated Lushai Hills from the plains of Cachar, and another of 1933 that demarcates a boundary between Lushai Hills and Manipur.
During colonial times, Mizoram was known as Lushai Hills, a district of Assam.
Mizoram believes the boundary should be demarcated on the basis of the 1875 notification, which is derived from the Bengal Eastern Frontier Regulation (BEFR) Act, 1873.
Mizo leaders have argued in the past against the demarcation notified in 1933 because Mizo society was not consulted.
The Assam government follows the 1933 demarcation, and that is the point of conflict.
According to an agreement between the governments of Assam and Mizoram, the status quo should be maintained in no man's land in the border area.
In the Northeast's complex boundary equations, clashes between Assam and Mizoram residents are less frequent than they are between other neighbouring states of Assam, like with Nagaland.
5.Ayushman Sahakar Scheme: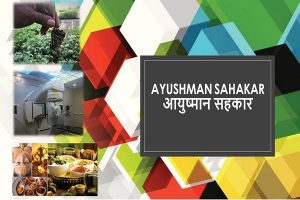 The Ministry of Agriculture and Farmers Welfare has launched Ayushman Sahakar, a scheme to assist cooperatives in creation of healthcare infrastructure in the country.
Formulated By: National Cooperative Development Corporation (NCDC).
NCDC was set up under an Act of Parliament in 1963 for promotion and development of cooperatives.
It functions under the Ministry of Agriculture and Farmers Welfare.
Recent initiatives include Sahakar Cooptube NCDC Channel (Youth-focussed), Sahakar Mitra (Internship Programme), etc.
Features:
NCDC would extend term loans to prospective cooperatives to the tune of Rs.10,000 crore in the coming years.
Any Cooperative Society with suitable provision in its byelaws to undertake healthcare related activities would be able to access the NCDC fund.
The scheme covers establishment, modernization, expansion, repairs, renovation of hospital and healthcare and education infrastructure.
NCDC assistance will flow either through the State Governments/ UT Administrations or directly to the eligible cooperatives.
The scheme also provides working capital and margin money to meet operational requirements.
Further, the scheme provides interest subvention of 1% to women majority cooperatives.
Significance:
It has a comprehensive approach-hospitals, healthcare, medical education, nursing education, paramedical education, health insurance and holistic health systems such as AYUSH.
The Covid-19 pandemic has brought into focus the requirement of creation of more facilities.
There are about 52 hospitals across the country run by cooperatives. They have cumulative bed strength of more than 5,000. The scheme would give a boost to provision of healthcare services by cooperatives.
The scheme aligns itself with the focus of the National Health Policy, 2017, covering the health systems in all their dimensions- investments in health, organization of healthcare services, access to technologies, development of human resources, encouragement of medical pluralism, affordable health care to farmers etc.
It is in line with the National Digital Health Mission and would bring transformation in rural areas.
Cooperatives have a strong presence in rural areas, thus, cooperatives utilizing the scheme would revolutionize the way healthcare delivery takes place in rural areas.
Other important current affairs:
1.The All India Judges Association has passed a resolution condemning Andhra Pradesh Chief Minister Y.S. Jagan Mohan Reddy's letter against Supreme Court judges Justice N.V. Ramana as a "deliberate attempt to scandalise and coerce the judiciary".
The Association said the "tone, tenor and timing of the letter portrays malafide intent and appears to be orchestrated for hidden agendas".
AP CM's complaint is with respect to Supreme Court Justice N.V. Ramana's alleged influencing of posting of cases in the State High Court.
The complaint also alleges the hostile attitude of some High Court judges towards the current state government of Andhra Pradesh and their deliberate and unsubstantiated striking down of the state government's decisions and orders.
This amounts to an accusation of misconduct, corruption and the political bias among the judges.
Though there have been previous instances of such allegations against certain judges, the current situation is unprecedented given that the current allegations have been made by a constitutional body, The Chief Minister of a state. This marks an open conflict between the judiciary and a Chief Minister.
2.The National Company Law Appellate Tribunal (NCLAT) has dismissed an appeal against Siemens Gamesa Renewable Power Pvt. Ltd over alleged non-payment of settlement dues.
About NCLAT: Constituted under Companies Act, 2013.
Functions: It hears appeals against the orders of:

NCLT under Section 61 of the Insolvency and Bankruptcy Code, 2016 (IBC).
Insolvency and Bankruptcy Board of India under Section 202 and Section 211 of IBC.
The Competition Commission of India (CCI).

Composition: The President of the Tribunal and the chairperson and Judicial Members of the Appellate Tribunal shall be appointed after consultation with the Chief Justice of India.
3.Country's first multi-modal logistic park:
The first-ever multi-modal logistic park will be built in Assam.
The park will provide direct connectivity to air, road, rail and waterways to the people.
It will be developed under the ambitious BharatmalaPariyojana of the Government of India.
4.CSIR-IHBT makes history by introducing asafoetida (Heeng) cultivation in Indian Himalayan region.
Due to efforts of CSIR constituent laboratory, Institute of Himalayan Bioresource Technology (IHBT), Palampur, farmers of the Lahaul valley in Himachal Pradesh are taking up cultivation of asafoetida (Heeng).
Asafoetida is one of the top condiments and is a high value spice crop in India.
India imports about 1200 tonnes of raw asafoetida annually from Afghanistan, Iran and Uzbekistan and spends approximately 100 million USD per year.
CSIR-IHBT has now introduced six accessions of seeds from Iran through ICAR-National Bureau of Plant Genetic Resources (ICAR-NBPGR), New Delhi in October, 2018.
In the past thirty years, this has been the first attempt for introduction of asafoetida (Ferula assa-foetida) seeds in the country.
Raw asafoetida is extracted from the fleshy roots of Ferula assa-foetida as an oleo-gum resin. Although, there are about 130 species of Ferula found in the world, but only Ferula assa-foetidais the economically important species used for the production of asafoetida.
In India, we do not have Ferula assa-foetida, but other species Ferula jaeschkeana is reported from the western Himalaya (Chamba, HP), and Ferula narthex from Kashmir and Ladakh, which are not the species that yield asafoetida.
4.The Ministry of Finance has recommended that the Ministry of Environment, Forest and Climate Change (MoEFCC) "disengage" from five autonomous institutions working under it and merge two others, thus reducing the 16 autonomous organisations under the ministry to 9.
The recommendations are a part of the report that has been prepared in accordance with the guidelines prescribed under rule 229 of General Finance rules 2017.
Rule 229 pertains to 'General Principles for setting up of Autonomous Organisations'.
The purpose of the report is to make specific and actionable recommendations for rationalisation of autonomous bodies with a view to furthering the aim of 'minimum government, maximum governance,' ensuring efficient use of public funds.
Recommendations for MoEFCC:

Disengagement from the Wildlife Institute of India (WII-Dehradun), Indian Institute of Forest Management (IIFM-Bhopal), Indian Plywood Industries Research & Training Institute (Bengaluru), CPR Environmental Education Centre (Chennai) and Centre for Environment Education (Ahmedabad).
The Society of Integrated Coastal Management (New Delhi) should be merged with the National Centre for Sustainable Coastal Management (Tamil Nadu), as both perform similar roles of promoting coastal management. This will avoid duplication of activities and attain economies of scale.
Salim Ali Centre for Ornithology and Natural History (Tamil Nadu), which receives Rs. 14 crore annually from MoEFCC, should be merged with the ministry.
Statutory bodies such as Central Pollution Control Board, Central Zoo Authority (CZA), National Tiger Conservation Authority (NTCA), National Biodiversity Authority should continue to function under and with the financial support of MoEFCC.
5.NITI Aayog and Amazon Web Services (AWS) have announced the establishment of a Frontier Technologies Cloud Innovation Center (CIC), the first of its kind in India.
AWS is a subsidiary of Amazon, multinational tech and online-shopping giant.
It provides on-demand cloud computing platforms and Application Programming Interfaces (API) to individuals, companies, and governments, on a metered pay-as-you-go basis.
CIC is part of the AWS CIC Global Program, which provides an opportunity for government agencies, nonprofits and educational institutions, to come together on pressing challenges, apply design thinking, test new ideas, and access the technical expertise of AWS.
Frontier Technologies CIC will identify and prioritise projects as well as collaborate with local leaders, including subject matter experts at the state and district levels, to solve critical challenges.
Local enterprises, start-ups, researchers, and universities in India can experiment and build prototypes on AWS Cloud.
It is aligned to the visions of Aatmanirbhar Bharat Mission and the Atal Innovation Mission.
Aims of Frontier Technologies CIC:

To address societal challenges through digital innovation.
To enable budding innovators and start-ups and help in piloting state-of-the-art, cloud-centric digital innovations by leveraging emerging technologies such as artificial intelligence (AI), Internet of Things (IoT), robotics, etc.
To identify and deploy leading-edge technologies to drive continuous innovation in delivering citizen services.