Vikram-S : India's First Privately Developed Rocket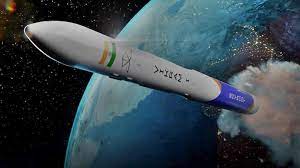 India's first privately developed rocket, Vikram-S, is poised to create history as it undergoes final preparations at the ISRO (Indian Space Research Organisation) launchpad in Sriharikota for launch between November 12 and 16.
It was developed by the Hyderabad-based Skyroot Aerospace.
The mission named 'Prarambh' (the beginning), since it is the first mission for Skyroot.
With this maiden mission, Skyroot is set to become the first private space company in India to launch a rocket into space.
The launch mission will be a suborbital spaceflight, and will carry three customer payloads to the intended orbit.
A suborbital spaceflight refers to a height of around 100km from the Earth's surface, and is done at a lower altitude than an orbital flight, which reaches at least a low-Earth orbit — between around 200km to 2,000km from Earth.
Suborbital flights are known to be important for conducting tests of space missions, before final commercial missions take place.
Among the three payloads is a 2.5kg satellite of another space startup, Space Kidz India, which has been built by students from India, the US and Indonesia.
Skyroot, a two-time national award winner, is the first start-up to sign a Memorandum of Understanding (MoU) with ISRO in this regard.
The Vikram series, named after the founder of India's space programme Dr Vikram Sarabhai, are all-carbon-fibre structures that can launch up to 800 kg of payloads to the Low Earth Orbit.
Skyroot has designed the series for the small satellite market at low costs and with capabilities for multi-orbit insertion.
Indian National Space Promotion and Authorisation Centre (IN-SPACe):
The establishment of IN-SPACe was announced in June 2020.
It is an autonomous and single window nodal agency in the Department of Space for the promotion, encouragement and regulation of space activities of both government and private entities.