Prachanda : Light Combat Helicopter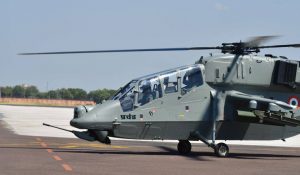 The Indian Air Force formally inducted the indigenously developed multi-role Light Combat Helicopter (LCH), Prachanda which is suitable for operating in high-altitude battlefields.
The LCH is the only attack helicopter in the world which can land and take off at an altitude of 5,000 meters with a considerable load of weapons and fuel.
The helicopter uses radar-absorbing material to lower radar signature and has a significantly crash-proof structure and landing gear.
A pressurised cabin offers protection from Nuclear, Biological and Chemical (NBC) contingencies.
The helicopter is equipped with a countermeasure dispensing system that protects it from enemy radars or infrared seekers of enemy missiles.
LCH is powered by two French-origin Shakti engines manufactured by the HAL.