Tri-Services Missile/Rocket Command: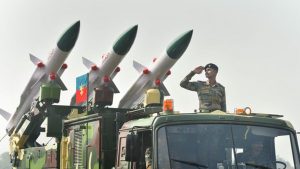 The central government is considering setting up of a tri-services missile/rocket command on the lines of the space and the cyber command as the first steps towards military theatre commands.
The proposed missile command will be responsible for deployment of missile and rocket regiments against any hostile adversary and will be manned by commanders of the three services in rotation.
This means that conventional missiles like BrahMos and Akash as well as Pinaka rockets will be placed under one command for rapid deployment against any adversary.
The proposal to set up a missile command has been moved in the aftermath of the May 2020 East Ladakh stand-off with the PLA and the use of rockets and missiles in the Ukraine theatre by the Red Army.
The missile command will be on similar lines as the tri-services cyber command and the space command as the future wars will hardly have any contact between troops unless used for capturing enemy territory.