Like-Minded Developing Countries (LMDC):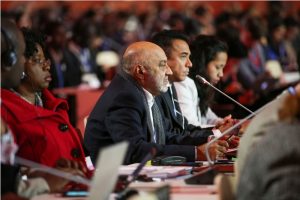 18 Like-Minded Developing Countries (LMDC), who usually present a common front at climate negotiations issued a statement.
Highlights:
The COP 27 is scheduled to be held at Sharm El Sheikh in Egypt in November this year.
The LMDC statement reiterated about the inequity in fund allocations for global warming mitigation efforts.
The questions are being raised about the net zero emissions plans of several countries, and critics have alleged that these projects are a subterfuge for postponing immediate action.
There are fears that the Paris Plans' target for a New Quantified Goal on Climate Finance could be delayed beyond 2025.
 'LMDC':
The Like Minded-Group of Developing Countries (LMDC) is a group of developing countries which have a similar stand in the United Nations climate negotiations.
The LMDC organise themselves as a block negotiators in international organizations such as the United Nations and the World Trade Organization.
The LMDC group which represents about 50 per cent of the world's population.
Member of the LMDC:
Bangladesh, Algeria, Bhutan, Belarus, Cuba, China, India, Egypt, Iran, Indonesia, Malaysia, Nepal, Myanmar, Sri Lanka, Pakistan, the Philippines, Syria, Sudan, Vietnam, and Zimbabwe.