Tiger Triumph Exercise: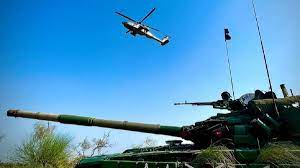 The Tiger Triumph exercise was jointly conducted by the United States and Indian militaries in Visakhapatnam, Andhra Pradesh.
The "Tiger Triumph" tabletop simulation was organized at India's Eastern Naval Command in Visakhapatnam from October 18 to 20 this year.
It is a comprehensive endeavor of the Indian and US military and diplomatic representatives to provide coordinated disaster relief to a notional third country hit by a super-cyclone.
Tiger Triumph exercise sought to improve interoperability between India and the US and create a multinational command and control model for humanitarian assistance in the Indian Ocean Region (IOR).
Its objective was to streamline diplomatic, operational, and logistical coordination between the two countries while responding to disasters.
50 individuals from India and the United States took part in this exercise.
The 2022 edition of the Tiger Triumph exercise is the second joint exercise between India and the US focusing on disaster relief.
It is the first tri-services exercise between US and India. It was organized under the aegis of the Integrated Defence Staff headquarters.
The 2022 Tiger Triumph marks the third time this year that the Indian and the US militaries are involved in a joint exercise in Visakhapatnam.