Lion @ 47: Vision For Amrutkal : Project Lion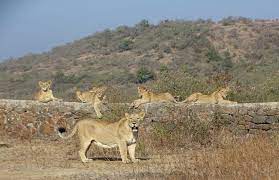 Project Lion document titled "Lion @ 47: Vision for Amrutkal" has been prepared by Ministry of Environment, Forest and Climate Change.
The Project is being implemented in the Gir landscape in Gujarat which is the last home of the Asiatic lion.
It envisages landscape ecology-based conservation by integrating conservation and eco-development.
Objectives:
To secure & restore lions' habitats for managing its growing population
Scale up livelihood generation and participation of local communities
To make India a global hub of knowledge on big cat disease diagnostics and treatment
Create inclusive biodiversity conservation
State government of Gujarat also gets funding for conservation of wildlife under centrally sponsored scheme – Integrated development of Wildlife Habitats.
Asiatic Lions:
Scientific name: Panthera leo persica
IUCN Status: Endangered, CITES: Appendix I, Wildlife Conservation Act: Schedule I