Sedition Law : Recommendation Of Law Commission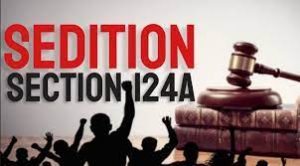 The Law Commission of India recently recommended retention of the sedition law and enhancement of the minimum punishment to seven years in jail from the current three years.
Recommendations – Amend Section 124A of the IPC:
To bring about more clarity in the interpretation, understanding, and usage of the provision and to align it with the SC's 1962 verdict.
To replace mere inclination to incite violence or cause public disorder with proof of actual violence or imminent threat to violence.
To enhance the alternative punishment to "7 years", giving the courts greater room to award punishment in accordance with the gravity of the act.
Procedural safeguards to minimise the abuse i.e Section 154 of the CrPC could be amended to hold that a FIR under Section 124A would be registered only after a police officer conducts a preliminary inquiry.
The Sedition Law in India:
Section 124A of the IPC:
It states, "Whoever, words, either spoken or written, or by signs, or by visible representation, or otherwise, brings or attempts to bring into hatred or contempt , or excites or attempts to excite disaffection towards the Government established by law in India shall be punished with imprisonment for life, to which fine may be added, , or with imprisonment which may extend to three years, which fine may be added, or with fine."
This means anyone who attempts to create hatred, contempt, or disaffection towards the government can be punished under the sedition law.
Punishment:

Sedition is a non-bailable offence.
Punishment under the law varies from imprisonment up to three years to a life term and fine.
A person charged under this law can't apply for a government job.
They have to live without their passport and must present themselves in the court as and when required.