Mahatma Jyotirao Phule Birth Anniversary: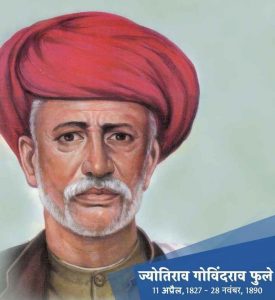 Jyotirao Phule was born on Born on 11th April 1827. He was an anti-caste reformer and social activist who along with Savitribai Phule, his wife, worked for the upliftment of children and women of the marginalized communities, and encouraged women's education.
He belonged to Maharashtra and worked hard to eradicate caste oppression and untouchability.
Jyotirao Phule started his first girl's school at Bhide Wada, Pune in 1848.
The Satyashodhak Samaj (Society of Truth Seekers) was also formed by him along with his followers with the aim of fighting for basic rights for all those who belonged to the lower castes.
In his association there were people from various castes and religions.
After getting recognition for his work he was acclaimed throughout the state of Maharashtra.
The title of 'Mahatma' ('great soul') was given to him in 1888 by another social activist Vithalrao Krishnaji Vandekar.
In the social reform movement in Maharashtra, he is considered to be an important figure.
At the young age of 13, he was married off.
In 1848 he was rebuked for attending the wedding of a Brahmin friend as he was from a lower caste.
Soon he realized that women are not treated properly in society and challenged this by first educating his wife Savitribai.
Then, in Pune, he started a school for girls. The upper-caste society who were very conservative did not approve of the education of girls and the Phule couple were routinely attacked for their stance on female empowerment and education.
Their friend Usman Sheikh along with his sister Fatima Sheikh who were also pioneers of female empowerment provided shelter to them and helped them to start a school on their premises.