Direct Seeding Of Rice: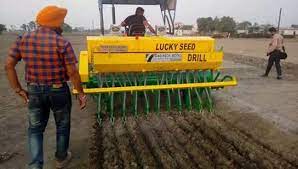 The Punjab government announced Rs 1,500 incentive per acre for farmers opting for Direct Seeding of Rice (DSR).
Last year, 18% (5.62 lakh hectares) of the total rice area in the state was under DSR against the government target of bringing 10 lakh hectares under it.
In 2021-22, 31.45 lakh hectares (over 3.1 million hectares) was under paddy and basmati, including 26.60 under non-basmati rice and 4.85 lakh hectares under basmati. The figure was 31.49 lakh hectares in 2020-21 and 31.42 lakh hectares in 2019-20.
Around 3,600 litres to 4,125 litres of water is required to grow one kg rice depending upon the paddy variety.
Therefore, the DSR technique is receiving a push from the government side as it is a water saving technique.
DSR technique can help save 15% to 20% water. In some cases, water saving can reach 22% to 23%.
Direct Seeding of Rice (DSR):
Here, the pre-germinated seeds are directly drilled into the field by a tractor-powered machine.
There is no nursery preparation or transplantation involved in this method. Farmers have to only level their land and give one pre-sowing irrigation.
In transplanting paddy, farmers prepare nurseries where the paddy seeds are first sown and raised into young plants.
The nursery seed bed is 5-10% of the area to be transplanted.
These seedlings are then uprooted and replanted 25-35 days later in the puddled field.