Norman E. Borlaug Award: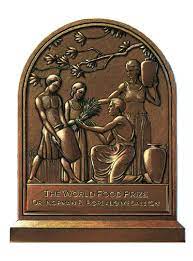 Indian agriculture scientist Swati Nayak won the prestigious Norman E. Borlaug Award for 2023.
Norman E. Borlaug Award recognises exceptional scientists under 40 and someone who works in the field of food and nutrition security and hunger eradication.
It is given in memory of the Nobel awardee and Green Revolution's chief architect Dr Norman Borlaug.
The award will honour an individual who is working closely and directly "in the field" or at the production or processing level with farmers, animal herders, fishers or others in rural communities in any discipline or enterprise across the entire food production, processing, and distribution chain.
The award diploma incorporates the image of Dr. Borlaug at work in the fields of Mexico and a cash prize of $10,000.
It is endowed by the Rockefeller Foundation and will be presented every October in Des Moines, Iowa, by the World Food Prize Foundation.