Mangarh Hillock As a Monument Of National Importance: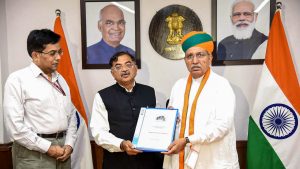 A report by the National Monuments Authority (NMA) called for the Mangarh hilltop in Rajasthan to be designated as a national monument in honor of 1500 Bhil tribal freedom fighters.
Monuments of National Importance:
National ancient Monuments are defined under the Ancient Monument and Archaeological Sites and Remains Act,1958.
The Act defines Ancient Monument as any structure or monument or any cave, rock sculpture, an inscription that is of historical, or archaeological interest.
The Central Government is authorised to maintain, protect and promote the monuments.
Mangarh Hillock:
The hillock, situated at the Gujarat-Rajasthan border, is a site of a tribal uprising where a massacre of over 1500 Bhil tribal freedom fighters took place in 1913.
The place is also known as the Adivasi Jallianwala, and there has been a demand to build a memorial.
On 17th November, 1913, British forces opened fire on tribals gathered at the site who were holding a meeting in protest, led by a leader from the community Govind Guru, killing over 1,500.