Maoist Attack In Sukma: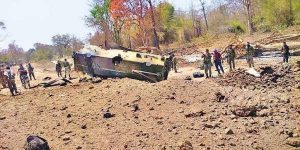 A team of security forces was attacked by a People's Liberation Guerilla Army (PLGA) unit in the Tarrem area near the Sukma-Bijapur district border, Chhattisgarh. Several security personnel were killed and many were injured.
PLGA was founded in 2000.
It has been declared as a terrorist organisation and banned under the Unlawful Activities (Prevention) Act-1967 (UAPA).
Sukma District:
Located in the southern tip of the state of Chhattisgarh, the district was carved out of Dantewada in the year 2012.
It is covered with the semi-tropical forest and is a mainland of tribal community Gond.
One major river that flows through the district is Sabari (a tributary of Godavari river).
Over a few decades, this region has become a fostering ground for Left Wing Extremism (LWE) activities.
Uneven terrains and the tricky geographic locations made this region a safer hideout for the LWE activists.
Left-Wing Extremism in India:
Left-wing extremists, popularly known as Maoists worldwide and as Naxalites in India.
The term Naxalism derives its name from the village Naxalbari of West Bengal. It originated as a rebellion against local landlords who bashed a peasant over a land dispute.
The rebellion was initiated in 1967, with the objective of rightful redistribution of the land to working peasants under the leadership of Kanu Sanyal and Jagan Santhal.
The movement has spread across Eastern India in less developed areas of states such as Chhattisgarh, Odisha, and Andhra Pradesh.
It is considered that Naxals support Maoist political sentiments and ideology.
Maoism is a form of communism developed by Mao Tse Tung. It is a doctrine to capture State power through a combination of armed insurgency, mass mobilization, and strategic alliances.