Mars Helicopter Ingenuity :NASA: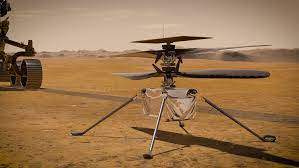 In another major success for the US space agency NASA, its Mars helicopter Ingenuity has been dropped on the surface of the Red Planet ahead of its historic first flight scheduled for April 11.
Ingenuity is a small robotic helicopter located on Mars since February 18, 2021, that is intended to make the first powered atmospheric flight on a planet beyond Earth.
As part of NASA's Mars 2020 mission, the small coaxial, drone rotorcraft will serve as a technology demonstrator for the potential use of flying probes on other worlds, with the potential to scout locations of interest and support the future planning of driving routes for Mars rovers.
Ingenuity, now on the Martian surface, was attached to the underside of the Perseverance rover.