Gangasagar Mela: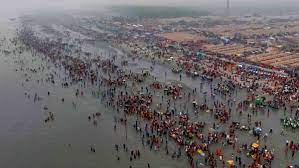 West Bengal ministers have demanded National Mela status for Gangasagar mela as record pilgrims have come to the mela this year claiming that the annual pilgrimage was turning out to be the biggest religious gathering in the country.
Gangasagar Mela is known as the world's second largest human congregation after Kumbh.
It happens every year during Makar Sankranti.
The mela is held at Sagar Island.
It has been mentioned in Indian epics such as the Ramayana and Mahabharata, putting its existence as early as 400 BCE.
The pilgrims after taking a dip in Ganga also visit the temple of Kapil Muni.
Kapil Muni or Maharishi Kapila is a Vedic sage (rishi) traditionally considered to be the original proponent of the Samkhya system of Indian philosophy.