Meendum Manjappai' Scheme: Tamil Nadu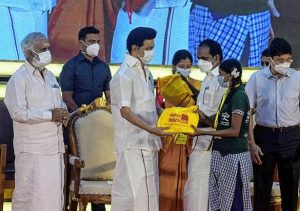 Tamil Nadu Chief Minister M.K. Stalin has launched the 'Meendum Manjappai' campaign aimed at creating awareness on the usage of cloth bags instead of single-use plastic bags.
The Tamil Nadu government has already banned 14 types of plastic materials.
The government also needs to address important structural issues such as policies to regulate the use of plastic alternatives, improve recycling and have better waste segregation management.
In addition to improving recyclability, investment in research and development for alternatives should also be a priority.
Single-use plastics refer to disposable items like grocery bags, food packaging, bottles and straws that are used only once before they are thrown away, or sometimes recycled.
As plastic is cheap, lightweight and easy to produce, it has led to a production boom over the last century, and the trend is expected to continue in the coming decades, according to the United Nations.
But countries are now struggling with managing the amount of plastic waste they have generated.
About 60% of plastic waste in India is collected — that means the remaining 40% or 10,376 tons remain uncollected
In 2019, the Union government in a bid to free India of single-use plastics by 2022, had laid out a multi-ministerial plan to discourage the use of single-use plastics across the country.
A government committee has identified the single use plastic (SUP) items to be banned based on an index of their utility and environmental impact. It has proposed a three-stage ban:
The first category of SUP items proposed to be phased out are plastic sticks used in balloons, flags, candy, ice-cream and ear buds, and thermocol that is used in decorations.
The second category, proposed to be banned from July 1, 2022, includes items such as plates, cups, glasses and cutlery such as forks, spoons, knives, straws, trays; wrapping and packing films used in sweet boxes; invitation cards; cigarette packets; stirrers and plastic banners that are less than 100 microns in thickness.
A third category of prohibition is for non-woven bags below 240 microns in thickness. This is proposed to start from September next year.