The Mekedatu Project: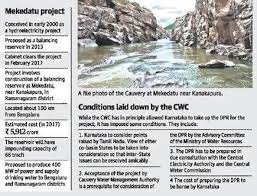 Tamil Nadu has protested against Karnataka's move to build a reservoir on river Cauvery at Mekedatu. However, the Karnataka Government has asserted that there is no "compromise" on the Mekedatu project and the state wants to undertake the project.
Meanwhile, the Centre has said the project required the approval of the Cauvery Water Management Authority's (CWMA).
The Detail Project Report (DPR) sent by Karnataka was tabled in the CWMA several times for approval, but the discussion on this issue could not take place due to a lack of consensus among party states Karnataka and Tamil Nadu.
Also, as per the Cauvery Water Dispute Tribunal's final award, which was modified by the Supreme Court, acceptance of CWMA would be a prerequisite for consideration of the DPR by the Jal Shakti Ministry.
Since the project was proposed across an inter-state river, it required approval of lower riparian state(s) as per the interstate water dispute act.
Mekedatu is a multipurpose (drinking and power) project.
It involves building a balancing reservoir, near Kanakapura in Ramanagara district in Karnataka.
The project once completed is aimed at ensuring drinking water to Bengaluru and neighboring areas (4.75 TMC) and also can generate 400 MW power.
The estimated cost of the project is Rs 9,000 crore.
Tamil Nadu is against this project becausenIt says, the CWDT and the SC have found that the existing storage facilities available in the Cauvery basin were adequate for storing and distributing water so Karnataka's proposal is ex-facie (on the face of it) untenable and should be rejected outright.
It has also held that the reservoir is not just for drinking water alone, but to increase the extent of irrigation, which is in clear violation of the Cauvery Water Disputes Award.