Mekedatu Issue: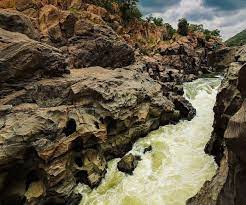 Facing strong objection from Tamil Nadu, Kerala, and Puducherry, the Cauvery Water Management Authority's (CWMA) had urged Karnataka to promptly deliver the balance quantum of water owed to Tamil Nadu, whilst dropping debate on the Mekedatu project.
The release should be as per the Cauvery Water Disputes Tribunal's decision of 2007, which was modified by the Supreme Court in 2018.
Tamil Nadu noted that Karnataka had only provided 85.8 TMC water instead of 119.5 TMC water until September 26. Tamil Nadu contended that Karnataka should indeed be ordered to deliver the surplus as well as the quota for the month of October promptly so that paddy planting in the Delta region may be protected.
About CWMA:
It has been created as per the Cauvery Management Scheme earlier framed by Centre and approved by Supreme Court.
Composition and Powers of CMA:
The authority will comprise a chairman, a secretary and eight members.
Out of the eight members, two will be full time, while two will be part time members from centre's side.
Rest four will be part time members from states.
Functions:
The main mandate of the CMA will be to secure implementation and compliance of the Supreme Court's order in relation to "storage, apportionment, regulation and control of Cauvery waters".
CMA will also advise the states to take suitable measures to improve water use efficiency.
It will do so by promoting use of micro-irrigation, change in cropping patterns, improved farm practices and development of command areas.
The CMA will also prepare an annual report covering its activities during the preceding year.
About Mekedatu Project:
Mekedatu is a multipurpose (drinking and power) project.
It involves building a balancing reservoir, near Kanakapura in Ramanagara district in Karnataka.
The project once completed is aimed at ensuring drinking water to Bengaluru and neighboring areas (4.75 TMC) and also can generate 400 MW power.
The estimated cost of the project is Rs 9,000 crore.