7th Edition Of The India Mobile Congress 2023: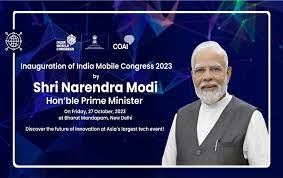 The Prime Minister of India inaugurated the 7th Edition of the India Mobile Congress 2023 in New Delhi.
India Mobile Congress (IMC) is the largest telecom, media, and technology forum in Asia to be held from 27th to 29th October 2023.
Theme of IMC: 'Global Digital Innovation'.
The IMC 2023 aims to strengthen India's position as a developer, manufacturer, and exporter of key cutting-edge technologies.
The Prime Minister awarded 100 '5G Use Case Labs' to educational institutions across the country.
The '100 5G labs initiative', is an endeavor to realize the opportunities associated with 5G technology by encouraging the development of 5G applications.
The rollout of 5G has been completed, with plans to extend coverage nationwide by March 2024.