Transfer Of Property Act, 1882: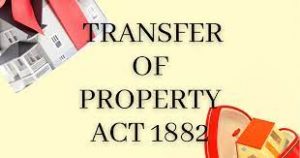 The Supreme Court recently held that rents receivable by a borrower can be assigned to a lender as an "actionable claim" as per the Transfer of Property Act, 1882 (TPA).
Transfer of Property Act, 1882:
The TPA is an important piece of legislation that governs the transfer of property between living beings (inter vivos) in India.
The TPA primarily applies to a transfer of immovable property; however, some sections and clauses of this Act deal with a transfer of movable property as well.
This Act was first introduced in 1882 and has undergone several amendments since then.
It outlines the various modes of required transfer and the legal requirements to ensure the transfer is valid.
The Act applies to all citizens of India who are involved in the transfer.
Transfer of Property:
According to the law, the transfer of property is defined as the act of a living person transferring property to one or more living persons, either presently or in the future.
This definition also encompasses companies, associations, or groups of individuals.
The TPA considers the term "transfer" to include various modes such as sale, mortgage, lease, actionable claim, gift, or exchange.
However, it does not apply to transfers that occur through the operation of law, such as inheritance, forfeiture, insolvency, or sale through a decree's execution.
Additionally, the Act does not govern property disposal through wills or cases related to the succession of the property.