Merapi Volcano Erupted: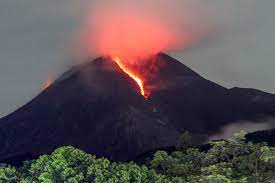 Merapi (Mountain of Fire) is the most active of more than 120 active volcanoes in Indonesia and has repeatedly erupted with lava and gas clouds recently.
It rises to 2,911 metres and has steep slopes with dense vegetation on its lower sides.
It is located near the centre of the island of Java and Indonesia's cultural capital, Yogyakarta.
Its last major eruption in 2010 killed 347 people and displaced 20,000 villagers.
Indonesia is prone to earthquakes and volcanic activity because it sits along the "Ring of Fire," a horseshoe-shaped series of seismic fault lines around the Pacific Ocean.