Ram Chandra Poudel : New President Of Nepal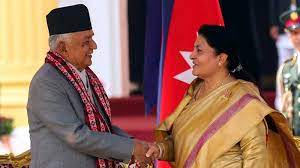 Ram Chandra Poudel, a veteran Nepali Congress leader and former Deputy Prime Minister, was elected as the new President of Nepal.
He secured vote of 214 lawmakers of Parliament and 352 provincial assembly members.
Poudel is the 3rd President of the country, succeeding Bidhya Devi Bhandari, whose tenure ended on March 12th.
This is the third presidential election in Nepal since the country became a republic in 2008.
The President of Nepal is elected by an electoral college, which consists of Members of Parliament and Members of the Provincial Assembly.
The tenure for the post of President is 5 years from the date of the election.