Millets Experience Centre: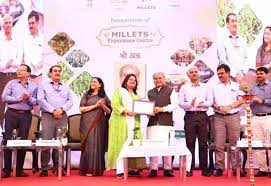 The Indian government has launched a first of its kind Millets Experience Centre (MEC) in collaboration with the National Agricultural Cooperative Marketing Federation of India (NAFED).
This initiative comes in light of the UNGA's declaration of 2023 as the International Year of Millets (IYM 2023).
Millet has been referred to as 'Shree Anna' in Union Budget 2023-24.
The MEC is a unique concept that will promote millets as a versatile, healthy grain by showcasing its dietary benefits and offering customers a unique dining experience.
Visitors to the center can purchase a variety of ready-to-eat and ready-to-cook products from local millet start-ups.
The MEC will help widen the horizon for consumers who are actively looking for healthier alternatives.
The establishment of the MEC is a step in the direction of India's goal to become a "Global Hub" for millet.
The MEC will not only promote the dietary benefits of the ancient grain but also popularize millet as a nutritional powerhouse fit for cooking a variety of dishes such as millet dosa and millet pasta.
This initiative will bring visibility to India's robust millet-based start-up community and will help in the recognition of the immense potential of millets as a versatile and healthy grain.