Mission Arikompan: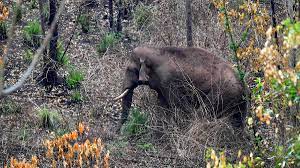 The forest department has initiated 'Mission Arikomban', an operation to capture the rogue tusker.
The plan is to capture it with tranquilizer shots and later shift it to an elephant training center.
The operation was originally slated to begin on March 25.
For this mission, the forest department has built a rapid response team of 71 members.
Chief forest veterinary surgeon Arun Zackariah is heading the 11 groups of the rapid response team for the mission.
A wild elephant by the name of Arikomban has been causing chaos in the higher ranges of Idukki district.
Arikomban is a rogue tusker, infamous for its habit of raiding rice shops and causing destruction in its path.
Over the past few years, Arikomban has trampled at least 10 people to death and destroyed around 60 houses and shops.
The forest department has come up with a plan to capture Arikomban and train it to be a 'kumki', a captive elephant used for operations against rogue elephants.